SERVICES
Engineering Services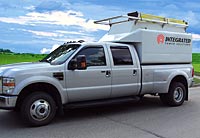 Qualified tower structural engineers are in short supply at the current time, and we meet the needs of our customers for these services. We are licensed to consult in Saskatchewan, Alberta, and Manitoba.
We have a qualified and professional staff that can meet any engineering demand. We specialize in the structural engineering of communications structures such as guyed towers, self supporting towers, monopoles, rooftop mounts, and specialty antenna mounts. We offer structural engineering services such as tower design, tower analysis, and antenna mount design. We also offer tower inspection services.
Project Management
We have a qualified project management staff that performs the management of any broadcast or telecommunications project. We perform real estate acquisitions, site adequacy verifications, and Industry Canada tower approval processes. We manage deliverables of any project to ensure a timely and quality delivery.
Field / Construction Services
We have a extremely experienced and qualified staff to deploy for any field services within the telecommunications and broadcast tower industry.
TOWER ERECTION (guyed towers, self supporting towers, monopoles)
ANTENNA AND TRANSMISSION LINE INSTALLATION
TOWER AND SITE MAINTENANCE (under the direction and guidance of a qualified professional engineer)
CIVIL CONSTRUCTION (site access roads, tower and shelter compounds, fencing of compounds and tower anchors, provision of electrical service)
TOWER REINFORCING (will make existing towers compliant with current engineering standards. Due to our high level of expertise this is one of our specialties as it is very challenging from an engineering and field services perspective)
TOWER LIGHTING MAINTENANCE, TROUBLESHOOTING AND REPAIRS, AND SUPPLY AND INSTALLATION
Technical Services
Due to our close relationships with our partner, Pippin Technical Services, we provide a high level of technical services to our customer. These include:
-antenna and transmission line troubleshooting and repair
-microwave system installation and commissioning
-HSPA, UMTS, and CDMA equipment installation and testing
Emergency Services
Tower and antenna equipment quite often fails due to age or environmental factors. As we are centrally located within Canada, we quickly deploy to meet our customers emergency needs. We understand that failure of antenna systems can mean lost revenue and we are sensitive to this. Due to our dedication to our customers needs, we may be able to deploy and repair quicker than some of our competitors that may have offices located near the target market of the emergency!